I'm all about convenience, and using a slow cooker
makes everything easy-breezy!
Here's a great way to have an early Thanksgiving, but on a much healthier level: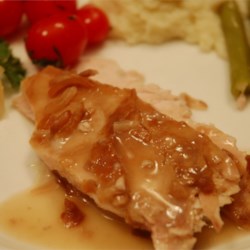 1 (6 pound) bone-in turkey breast

1/2 envelope dry onion soup mix

1 can low-fat cream of chicken soup

10 small red potatoes

1/2 lb fresh green beans

1/2 lb mushrooms, sliced

1 large Vidalia onion, sliced thin

4 cloves garlic, minced




1.
Rinse the turkey breast and pat dry. Cut off any excess skin, but leave the skin covering the breast. Rub onion soup mix all over outside of the turkey and under the skin.

Place the potatoes, green beans, mushrooms, and onion in bottom of slow cooker. Add half of the can of soup. Mix well to coat veggies.

Place turkey breast in a slow cooker. Pour remaining soup on top. Cover, and cook on High for 1 hour, then set to Low, and cook for 7 hours.